23 Jun 2014
38 Benefits of Papaya for Skin, Hair, Health and Beauty
.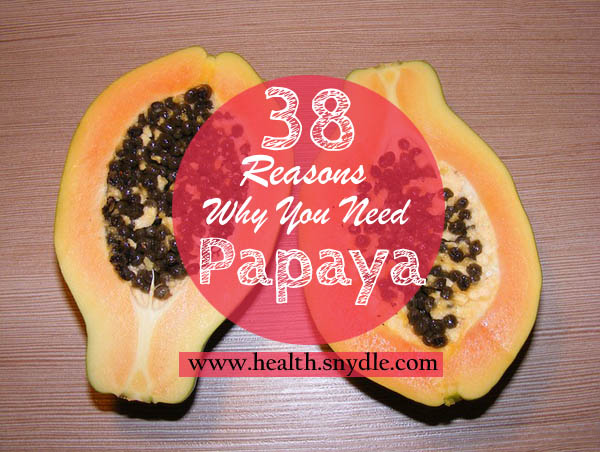 Papaya is known as "The Fruits of Angels" as it is very famous and loved by all for its rich orange texture and delicious taste. Do you know, they are good for health, skin and hair too?
Throughout the year papaya is available. This fruit has soft butter like consistency and is sweet and delicious in taste. Papaya is usually 7 inches long. Papaya's flush is rich in orange color and its skin is mixture of green and yellow color. Papaya is not just a fruit to eat but other parts of its is too beneficial. Papaya enzyme which is known as 'Papain' is very beneficial in digesting proteins. Extract from the fruit and tree is very helpful in making dietary supplements and is used in some chewing gums too!
Papaya belongs to Central America but explorers from Portugal and Spain bought this fruit to subtropical lands which then migrated to places like Africa, Philippines and India.
Largest commercial producers of papaya are United States, Mexico and Puerto Rico. Papaya is good source of antioxidant nutrients like Vitamin C, carotenes and flavonids. The folate, vitamin B and Pantothenic acid and magnesium and potassium as well as fiber are present in Papaya.
In facial creams and shampoos the pulp of fruit is used.
Benefits of Papaya for Skin
Skin care: Papaya is rich in vitamin c and has many healthy components which is best for skin care and helps to make your skin glowing and healthy.
Removes dead skin: Papaya contains good amount of Vitamin A and this fruit helps remove dead skin cells and inactive proteins are broken down.
Skin hydration: Papaya contains very low sodium and it results to very retention of water and helps to keep hydrating skin.
Reduce pimples and blemish: Papaya has an excellent property which helps to exfoliate dead skin and clear skin cells in very healthy way. Papain is enzyme found in papaya which is very beneficial in reducing pimples and blemish.
Beneficial for both eating and application : Papaya contains vitamin C and anti oxidants which is beneficial for eating and direct application to face as it provides supple, soft and smooth skin.
Long lasting beauty: Papaya contains vital nutrients like Vitamin C, carotenes and flavonids which helps in providing skin shine from within and is long lasting so should be applied and consume regularly.
Treatment for cracked and sore heels: Papaya contains natural enzyme known as papain which is good for transforming your heels rough skin to soft and smooth heels.
Natural skin exfoliates: Papaya contains natural enzyme which act as a natural skin exfoliate.
Removes skin discoloration: Papaya contains vitamin C which helps in removing sun tan and blemishes thus regular application and massage from papaya is helpful in removing skin discoloration.
Whitening of leg: Regular massage by raw papaya skin on your leg helps in whitening of leg.
Treatment for ringworm: Papaya is very rich in enzyme which is good for killing fungi thus rubbing some slices of raw papaya is very helpful in reducing inflammation and ringworm patches.
Reducing signs of aging: Papaya contains carotenoids, Alfa Hydroxy Acid or AHA which are very beneficial in reducing signs of anti aging.
Papaya as Skin Treatments and Papaya Pack Recipes
Here are packs which are made up of papaya and are very beneficial for your skin.
Anti aging pack: Take off papaya peels, rub it on your face for 5 minutes and then with cold water wash off your face.
Treating dark spots: take papaya, mash its flush and add 2 tbsp of milk apply this pack to your face for 15 minutes and then wash off your face.
Hydrated skin: Mix honey with mashed papaya and then apply this to your face, after 15 minutes with normal water wash your face.
Dry skin: Take 1 ripe papaya and mash it nicely add 1 tbsp of milk cream or malai, apply this pack on your face for 20 minutes and then wash your face with normal water.
Moisturized skin: take 1 nicely ripped papaya and blend it to a fine paste. Apply this pack to your face for 15 minutes and then wash your face and pat dry your face to get best result.
Skin tightening: with mashed papaya mix rice flour and honey, apply this pack on your face for 20 minutes and then wash your face. 3 times a week apply this mask.
Sun tanned skin: take pulpy papaya and make its paste add honey, yogurt, egg white and lemon juice. Mix all ingredients and make thick paste, apply this pack to your face after 15 to 20 minutes wash your face with lukewarm water and then pat dry your skin.
These were so amazing benefits of papaya for skin so now let's proceed on hair.
Benefits of Papaya for Hair
Papaya is not only beneficial for skin but it's beneficial for hairs too. Papaya is in many hair care products for creating volume to your hair by nourishing the hair. Other benefits of papaya are as follow:
Hair growth: papain enzyme found in papaya is beneficial removing disease related enzyme thus is helpful in good hair growth.
Hair strength: Papaya contains many vital nutrients which is very beneficial in strengthening your hair.
Removes dirt for hair care: Papaya is very rich in vitamins, minerals and enzyme which helps in removing oil, dirt and harsh chemicals from hair.
Natural conditioner: Papaya is rich in many vitamins which helps to give your hair natural conditioner and gives shine to lifeless, dull and unruly hair.
Controlling dandruff: papaya is very beneficial for removing dirt from hair and removes dandruff.
Shine and silky hairs: Papaya contains enzyme which is good for hairs thus applying papaya mask will give your hair silky and shin.
Papaya Hair Masks
Take ripe papaya and mash it nicely in that add 1 cup mashed ripped banana,1 tbsp of coconut oil, 1 tbsp of molasses and 1 cup yogurt. Mix them nicely. Apply this paste to damp hair, with shower cap cover your hair. Allow this pack to stay on your hairs for half an hour. Then wash your hairs.
This pack will give you healthier, thick and long hair.
After skin and hair benefits, let us now proceed to health benefits of papaya.
Health Benefits of Papaya
Papaya is very beneficial for health related diseases and problems many scientist has showed their interest for conducting research on papaya and some had proved them and some are still finding. Let us find out more benefits of papaya other than benefit for hair and skin.
Papaya is a remedy for hypertension: This is very popular benefit of papaya for health. Papaya contain rich amount of potassium which helps to keep your blood pressure in control and improves the mental alertness.
Papaya improves eyesight: This is one the important benefit of papaya for health as it improves eyesight's. Papaya contains phytochemicals like cryptoxanthin, lutein and zeaxanthin which is very beneficial eyes.
Papaya boost immunity system: Papaya contains rich amount of Beta-carotene which helps in proper functioning of immune system and thus boost body immunity system.
Prevent from cold and flu: Papaya helps in boosting immunity system as it is rich in beta carotene and vitamin C which helps in preventing cold and flu.
Protects from heart disease: Papaya is rich vitamin C and A thus is is very helpful in preventing from hearth diseases. The nutrients present in Papaya helps in preventing oxidant from cholesterol.
Lower high cholesterol level: Papaya is good source of fiber which acts in lowering bad cholesterol from blood.
Reduce risk of heart strokes: Papaya contains folic acid which is need for conversion of substance known as homocysteine in blood and if homocysteine is not converted then it results to damage blood vessel wall and thus results to heart stroke or attack.
Papaya heals wound: Papaya contains papain which has an anti inflammatory and antiseptic capacity which heals wound. Pulp of papaya can be directly applied to external skin wound.
Boosts digestion: Papaya contains papain which helps in realm of protein and digestive properties in stomach. Thus eating papaya results in good absorption for blood sugar level.
Prevent from cancer: Not only papaya fruit but also papaya leaves is benefit for health. Papaya leaves have milky sap which contains acetogenin which is good for killing cancer cells.
Cures from respiratory disorders: Papaya contains latex which is very necessary to fight with respiratory diseases like breathing, cough and bronchitis.
Benefit in diabetics: Papaya contains good amount of anti oxidants and vitamin A, B and C which help to keep blood sugar level normal even it's sweet in taste thus eating papaya in diabetic is very beneficial.
So these were some amazing benefits of papaya for skin, hair and health. Do you know some other benefits papaya? Do share with us.