23 Feb 2015
25 Fabulous Home Remedies For Glowing Skin
.
25 Effective Natural Solutions For Healthy, Glowing Skin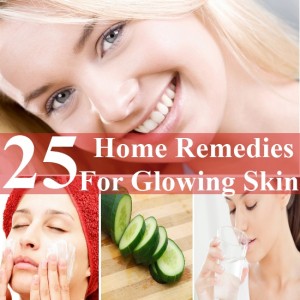 http://www.homeremedyfind.com/wp-content/uploads/2014/04/Glowing-Skin.jpg
The silky soft, smooth, velvety glowing skin of the celebrities are breathtaking. They are so picturesque that it often leaves all of us restrict it to just reel life, and not real life. But the astonishing fact is that each and every woman out that can also enjoy a flawless skin that radiates  health and beauty. Do not be tempted to indulge in those extravagant creams and serums arranged across the shelves of those cosmetic destinations out there. Go natural and why not when Mother Earth has blessed with here bountiful gifts. Curious to know more? Read on for those 25 simple, yet marvelous solutions that we can find in our home itself for that admirably glowing skin…
25 Gifts From Mother Nature For A Radiant Skin
Lemon and Honey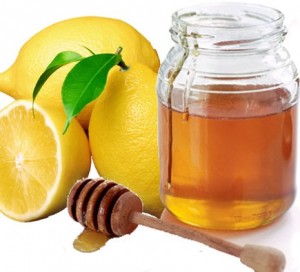 https://stylebymongo.files.wordpress.com/2013/08/lemon.jpg
Both are natural skin lightening agents. Both are rich in antibacterial, antibiotic, and antiviral properties. While lemon absorbs the excess oil from your skin, honey helps to lock in the moisture. Thus both these elements work with each other bestowing you a wonderful skin. Mix honey and lemon in equal proportions and apply on moistened face. Wash off after 20 minutes with cold water to reveal a naturally glowing skin.
Oats
https://cannizzoclutch.files.wordpress.com/2013/11/oatmeal-facial-mask.jpg
Oats are good for your weight and for your skin too. The natural exfoliating property of these grains enable you to eliminate the dead skills that hamper with skin radiance. Soak ½ cup oats in warm water for 10 minutes. Mash into a thick paste and use this as an scrub for instant fairness. You can even use milk or plain yogurt in the place of water for better results.
Tomato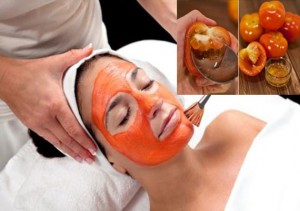 http://oneclickbeautycare.com/wp-content/uploads/2013/07/pack3.jpg
Tomato is a natural skin bleaching agent. Just rub the pulp of  a ripe tomato on your face and wash off with cold water after 20 minutes. You skin will lighten up immediately, looking more radiant. The blemishes also tend to fade off with regular use of this grandma's beauty secret.
Ice Cubes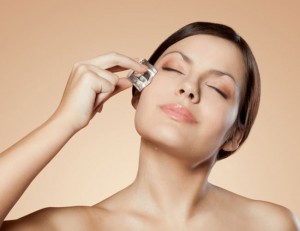 http://www.thebrunettediaries.com/wp-content/uploads/2014/02/ice-cubes-skin.jpg
Massaging your face with an ice cube triggers an increased circulation of blood. This in turn gives you that enviable rosy glow. You can also use this to prevent your make up from smudging. Alternatively, add a few drops of your massaging cream or lotion on the ice cube and massage with it for that radiant look  sans makeup.
Papaya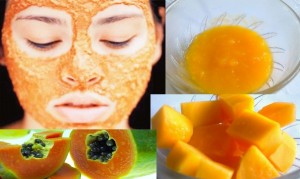 http://musetheplace.com/media/uploads/2014/07/papaya.jpg
Ripe papaya has been a vital ingredient in the beauty regimen of many beautiful women across the world since millions of years. Mash ¼ cup of ripe papaya and mix in 2 tbsp honey to the mixture. You can use this as your instant glow face pack. Use cold water infused with a few drops of rose water to rinse off after the pack dries away.
Rice Flour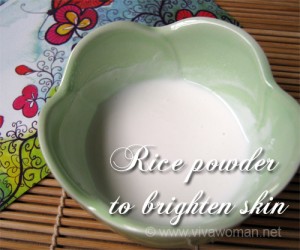 http://www.vivawoman.net/wp-content/uploads/2011/08/rice-powder-paste.jpg
Rice flour is a natural exfoliating element that ensures that your dead cells are eliminated, paving way for a radiant skin. Add 3 tbsp of finely powdered rice flour to 1 tbsp turmeric powder. Make a smooth paste of this mixture by adding a little milk at a time. Cleanse your face and apply the pack on the moist face. Wait for 20  minutes before washing away with normal water. Dab dry and reveal that shining skin.
Green Apple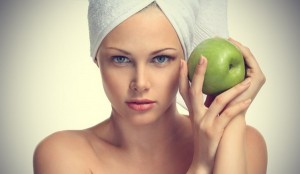 http://oneclickbeautycare.com/wp-content/uploads/2013/09/green-apple-face-mask.jpg
Green apple is a rich source of antioxidants and hence act as a natural free radical eliminator. You can use this regularly to avert the oxidative damage and improve the skin texture and glow. Make a pulp out of the apple and apply it on your face after mixing it with a little honey. Wash off with cold water after 15 minutes.
Multani Mitti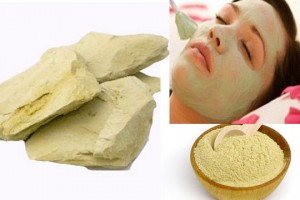 http://www.feminiya.com/wp-content/uploads/2013/05/sun-tan-home-remedies-multani-mitti.jpg
Multani mitti is a blessing for all types of skin. It is a skin lightening agent; plus it can do wonders in easing various blemishes and scars, thereby helping your skin regain that lost glow.  Make a paste of Fullers' earth with water and apply on your face. Wash off after 10 minutes when the pack is still wet for that marvelous radiance.
Coconut Oil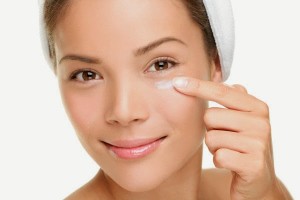 http://coconut-oil-guide.com/wp-content/uploads/2014/05/Benefits-Of-Coconut-Oil-On-Skin.jpg
Massage in a few drops of coconut oil on your cheekbones to reveal that natural glow. You can also massage your face with the coconut oil and wash off with a mild cleansing agent 10 minutes later to reveal a glowing face.
Sugar and Honey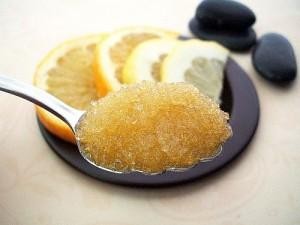 http://www.aquaaria.com/wp-content/uploads/2014/05/honey+sugar+scrub.jpg
Sugar helps in getting rid of the dead skills from your face, while honey moistens and lightens your skin. Mix 2 tbsp honey with 1 tbsp sugar and use this as a natural exfoliating agent.
Turmeric Powder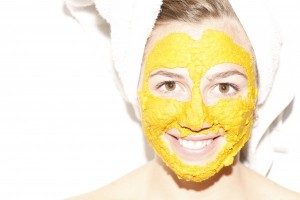 http://www.womansworld.in/wp-content/uploads/2014/04/fave.jpg
You can use turmeric powder with honey and milk or honey and lemon juice to add shine to your skin. Prepare a paste and apply it on your face. Wait for 10 to 20 minutes for the mask to dry and then wash off with normal water. Just 1 tsp of turmeric powder is sufficient.
Sandalwood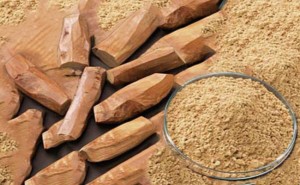 http://cdn.searchhomeremedy.com/wp-content/uploads/2015/01/Sandalwood-Powder.jpg
Sandalwood helps in absorbing the excess oil from your face and hence is ideal for those with oily skin to add glow to their face. Mix 2 tbsp sandalwood with rose water enough to make a paste. Using a brush, apply evenly on your face. Rinse off with cold water 20 minutes after your apply the pack. Follow up with your favorite moisturizer.
Banana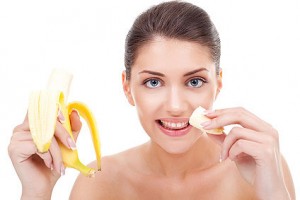 http://www.aliaco.com/wp-content/uploads/2013/02/banana-face-mask.jpg
Ripe bananas are laden with plentiful of nutrients sufficient to gift a lowing skin. Mash the banana well. Add a few drops of honey and 1 tbsp olive oil to the mixture.  Apply with your fingertips on the face and wash off after 20 minutes with cold water.
Eggs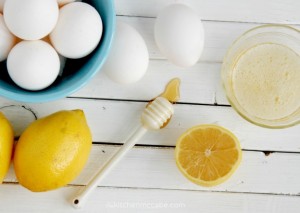 http://thekitchenmccabe.com/wp-content/uploads/2013/11/honey-lemon-egg-white-diy-mask-homemade-4-624×442.jpg
Protein rich egg whites do a marvelous job in adding radiance to your skin. Mix 1 tbsp honey with one egg white. Beat the mixture until well mixed. Apply on the skin and wash off after 15 minutes to see visible differences on your face.
Curry Leaves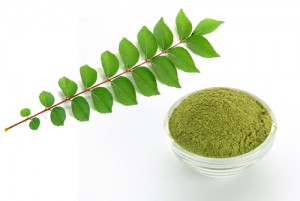 http://img.tradeindia.com/fp/1/484/225.jpg
You can eat 12 to 15 raw curry leaves to purify your skin from within and ensure that it glows. For an instant glow, prepare a paste of powdered curry leaves and fullers earth in the ration 1:2 with lemon juice and honey. Apply this to your pimple and acne prone skin and wash off after 15 minutes for a wonderful shine.
Yogurt With Gram Flour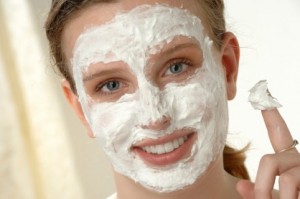 http://www.stonyfield.com/blog/wp-content/uploads/2011/08/Yogurt-Facial-pic-e1313072267101.jpg
Yogurt is rich with lactic acid that enables it to lighten the skin. Mix 2 tbsp yogurt with 2 tbsp gram flour and ½ a tsp turmeric powder. Apply this on your skin and wash off after the mask dries off with lukewarm water. If you have a dry skin, then follow up with a good moisturizer to prevent skin from drying away.
Orange Juice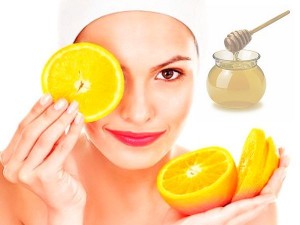 http://tagawayreviews.com/wp-content/uploads/2014/02/oranges-as-skin-care-home-made-remedies.jpg
Akin to lemon juice, orange juice also lightens the skin. Plus, it absorbs the excess oil, making it an ideal glowing skin remedy for those with oily skin. Mix 2 tsp orange juice to 1 tsp turmeric powder. Use this mixture as a face pack. Wash off with normal water after 20 minutes of application for noticeable changes.
Yogurt With Honey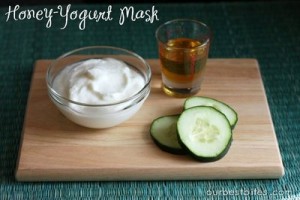 http://pinlavie.com/system/posts/pictures/2632/Honey+Yogurt+Mask.jpg
Both are natural skin bleaching agents. Mix yogurt with honey in the ratio 2:1. Apply on your face and wash off with normal water after 20 minutes or after the mask dries off. The moisturizing affects of both the ingredients along with skin lightening properties is sure to present with an adorable glow.
Avocado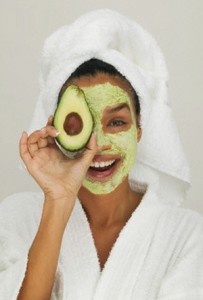 http://www.drgranny.com/wp-content/uploads/2011/04/avocado-Face-Mask.jpg
Avocado is a luxurious gift from nature to beautify dry skin. Loaded with assorted nutrients, avocado helps in enriching the skin with a lush dose of moisture, thereby gifting that glow from within. Mash ½ a ripe avocado with ¼ cup ripe papaya and ¼ cup cucumber. Mix in 2 tbsp fresh cream to the mixture. Apply this on the skin and leave for 20 minutes. Using lukewarm water, cleanse the face. The glow is sure to fetch you countless compliments.
Cinnamon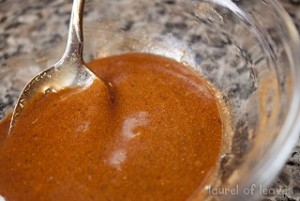 http://www.laurelofleaves.com/wp-content/uploads/2011/11/cinnamonhoney01_cr.jpg
The aromatic spice from the kitchen has benefits that goes beyond the body. It is a great way to eliminate the dead skin cells and free radicals and restore that lost glow. Mix ½ tbsp freshly ground cinnamon bark with 2 tbsp oats. Add 2 tbsp milk and ½ a tsp honey to the mixture to get your glow mask ready. Apply on the face, massage a little, and leave on until the mask dries. Wash off with normal water and pat dry.
Tea Leaves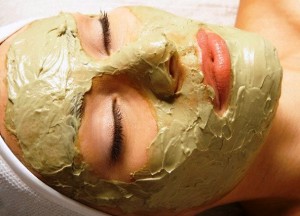 http://www.thecherryshare.com/pictures/green-tea-face-packs-for-skin-934383934383.jpg
Laden generously with antioxidants, tannins, and flavanoids, tea is a gift from the nature to enhance your natural glow. Boil 300 ml in 1 tbsp tea leaves for about 3 to 4 minutes or until water starts getting a subtle hue. Allow the mixture to cool down. Mix 2 tbsp of this water with 1 tbsp each of brown sugar and cream to make a coarse paste. Apply on your face, massage gently, and wash off after 10 to 12 minutes with cold water to unlock a more beautiful you.
Olive Oil With Brown Sugar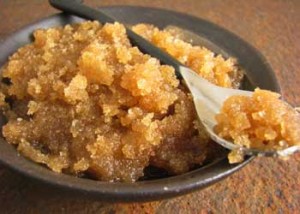 http://timesoffashion.blogspot.in/2012/11/brown-sugar-olive-oil-body-scrub.html
Brown sugar helps in getting rid the dead skills while olive oil gives you the essential hydration. The net effect – your face will have that enviable glow. 2 tbsp brown sugar with 2 tbsp olive oil can be mixed into a fabulous scrub cum mask. Apply on your face and gently massage in circular fashion. Leave on 10 minutes before washing way with warm water. Add  1 tsp of lemon juice to this mixture to get rid of the tan too.
Almonds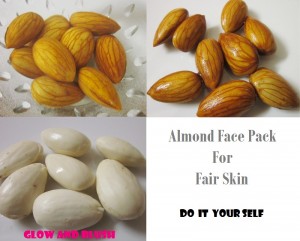 http://www.glowandblush.com/2013/08/almond-and-milk-fairness-face-pack-to.html
Almonds are the best comrades your skin can ever demand for. Loaded with good essential fatty acids, vitamin E, as well as wide assortment of other nutrients that nourish the skin internally and externally. Soak 1 tbsp almonds in water overnight. Crush this along with 1 tbsp honey and 2 tbsp each of oats and milk. Apply this mixture on your face and wash off with warm water after 15 minutes. This is one of the most effective home remedies for glowing skin.
Potato

http://naturalskinwhitening.healthylife.website/potato-for-skin-whitening
There is an alternative for French Fries now. Yes, but not eating the potatoes. Just rub a freshly sliced potato on your face for 5 to 10 minutes. And, just see the difference. This starchy root veggie is known to be an intense innate bleaching agent. Your tan will be eased; blemishes will get a fade out; skin will lighten. In short, you will be glowing.
Jasmine Flowers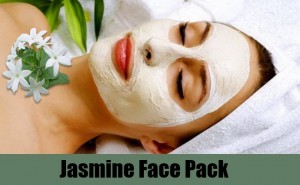 http://cdn.girlscosmo.com/wp-content/uploads/2012/07/Jasmine-Face-Pack.jpg
They look beautiful on your hair; they are fabulous mood boosting gifts from nature. However, there is very less talked about the beauty benefits of jasmine. Crush a handful of jasmine flowers and mix in 1 tbsp sugar and 2 tbsp yogurt. Mix all the ingredients well. Apply on your face and wash off after 15 minutes. This will lighten your skin tone and render a beautiful shine to your face. Include this glowing skin solution in your weekly beauty regimen to maintain that luster on your face.
The Dos and Don'ts You Should Follow For A Glowing Skin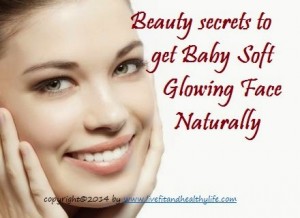 http://www.livefitandhealthylife.com/2014/08/beauty-tips-to-get-baby-soft-glowing.html
Here are some interesting and easy to follow tips that you can try to add and preserve the glow on your face:
Drink at least 3 liters of water every day. It eliminates the toxins from your whole system while adding a lush dose of hydration, two essential components for glowing skin.
Include wide assortment for fruits and veggies in your diet.
Include complex carbohydrates in your diet.
Avoid overindulging in makeup.
Do yoga for your face too.
Avoid junk food from your diet.
Stay away from cigarettes.
Restrict your caffeine intake.
Remove your makeup before hitting bed.
Stay away from alcohol.
Last but not the least, try to catch up at least 6 to 8 hours of sleep. Sleep, akin to other elements, is essential as it helps in promoting skin cell repair and thus maintain the skin glowing.
So, what are your tips for a glowing skin? Share with right in the comments section below…